One of the things we will always remember about Sr Joy is her love for the color purple.  When she was hearing and feeling God's call to her for religious life, and while she was conversing with the Lord in prayer, she jokingly told God that if she will see a nun with a purple habit, she will answer His call.  And lo and behold, in a restaurant, she had an encounter with a bunch of sisters in a purple habit!  And that was the start of a beautiful "purple" life.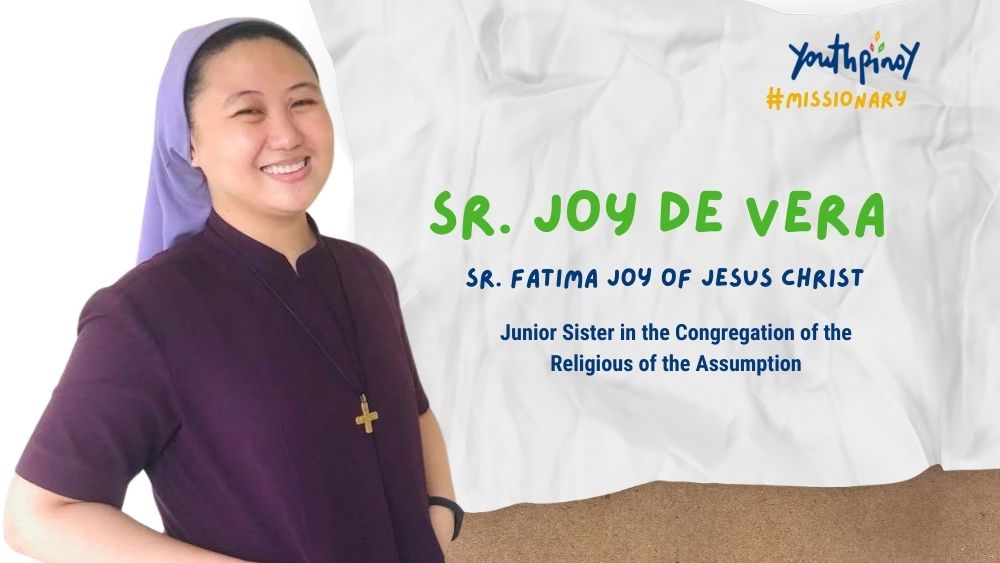 Tell us about yourself and your journey of knowing Christ
I am Sr. Fatima Joy of Jesus Christ (my religious name and most people call me Sr. Joy. I am a Junior Sister in the Congregation of the Religious of the Assumption, an active and contemplative congregation. We are also called "Purple Dots" by alumni in our school because of our unique purple habit. Our Congregation's apostolic mission is to transform society through education. I am currently on my final as a student of Theology and is in the process of writing my Master's Degree Thesis Major in Pastoral Ministry (Spirituality) at the Loyola School of Theology, Ateneo de Manila University.
Many people were involved in my journey of knowing Christ, however, my mother has the greatest influence.
She is an active member of different charismatic groups in our province, Tarlac. By the time my mom exposed me to different Church activities as a lay servant. In an early age, as a Grade 4 student, I was already sharing my God-experience with youth groups like St. Peter's Community.
After my mom became a member of the Handmaids of the Lord, their prayer group leader sponsored my youth camp for Youth for Christ. I remember in one 'Family Day' event, I encountered the Singles for Christ who were very energetic and lively shouting at the start of the conference, "Ang galing, ang galing, galing ni Lord!" And on the evening, they presented a theatre piece entitled "Bagong Silang." I was amazed with the different conversion stories of people in the play, and learned that these were based on true stories. Since then, a dream was embedded in my heart to get to know more and serve the Lord. I told myself that someday, I will also be part of a fun community. I was inspired by how they boldly and joyfully shared their faith through their gifts and talents.
What or who made you decide to be a missionary?
Can you share to us your journey of becoming a missionary?
It all began when I signed a covenant as a Singles for Christ member and experienced a commitment to reading the Scriptures. Since then, I became constantly attentive to God's presence and invitation. I had so much thirst and hunger wanting to know more about God. I became passionate too in my desire to frequently receive the Eucharist. It was all these things stirring in my heart that made me reflect and ask, "where is the zeal of the missionaries whom I encounter coming from?" and what is common in their stories is that their proclamation came from "God's grace".
I actually had a very stable and promising career when I started to reflect. I was managing a sales team with beautiful perks and rewards. I was free to plan my week as well as my travels. There was no need to time in or time out. Everything were provided – car, latest gadgets, hotel allowance, gas allocation and many more. I could enroll and take further studies on what I wanted to learn to move forward in the corporate ladder. I made new good friends and met someone special.
After I became more reflective about my faith, I lost my appetite for all these worldly things. One by one, I started to detach myself from them. My fear was converted into zeal for the Kingdom. I attended the Sacraments and allowed myself to be guided by my spiritual mentors and friends. While I allowed my heart and spiritual "ear" to listen respectfully to the inspiring stories of missionaries who openly share their faith amid difficulties, all my fears disappeared. Their stories inspired the courage dormant in me who had not wanted to take the risk.
My missionary journey started when I occasionally volunteered to participate in some pastoral missions of Singles for Christ. I shared my conversion journey in different parts of Luzon, NCR and even Japan. Later on, I started to share the beauty of the Eucharist by starting the "Project Share J.O.Y (Jesus to Others through You)," I simply asked through social media who among my friends were interested to help in an Aeta Community for a day project. Later on, I was asked if I could also help in providing little joys to "Kids with Cancer," the elderly, and then moved on to some typhoon victims and rebuilding a ruined Chapel in a small community in San Luis, Aurora province. Later on, I realized it filled the hunger and thirst I had within me and something I never expected happened – the call of becoming a part of the Religious. It happened at a stopover in a restaurant where I had an encounter with a bunch of joyful and welcoming purple sisters – the Assumption Sisters.
Now, my missionary journey as a Religious Sister is very exciting. The main mission of the Assumption is transformative education and I am part of the formation community of Assumption Malibay where we have our Mission School for the poor. Our community is considered as a "frontliner" community of Religious of the Assumption of the Asia Pacific Province since we are in the frontier, serving poor people around us through education and other formation programs. Moreover, we also started the St. Marie Eugenie Community Pantry. I participate in this by sharing reflection on the Gospel with our students during the "morning talk". I am also a member of the Communication Team of our Asia Pacific Province and the Vocation Promoter for the Community. On other days, I do my "Apostolate of the Ear" where I accompany some persons in their spiritual journey. I also realized that I am a missionary in "stillness" because most of our time is spent in prayer.  The rhythm of our prayer life with the Adoration of the Blessed Sacrament, our love for the Eucharist and the Divine Office harmonizes our daily life.
What makes you feel like a child?
Listening makes me feel like a child. It is always a source of great "wonder" everytime I listen to amazing God-stories of people and learning new things from my faith and spiritual mentors. Picture an imagery of a young young child who marvels at Lola Basyang's wonderful stories.
What are your simple joys?
My simple joy is to "breathe" (literally, inhale and exhale). The pandemic awakened my joyful spirit and a heart filled with gratitude towards God, "I'm alive today, Lord. Thank you. I have another chance to inhale and exhale Your love."
In your missionary adventure, what were your joys, struggles, challenges and even difficulties?
The convent and the veil is not an immunity from struggles and challenges. Our cross and our rosary is not an amulet of luck. At many times, I am still haunted by restlessness and being "still" becomes a struggle especially when confronted with my own personal shadows. Thank God we have spiritual guides to enlighten us during difficult moments. Perseverance in prayer truly helps particularly when I find it hard to pray.
For me, joy is the flag of the Holy Spirit. In our Rule of Life, there's this line that says, JOY is for those who have the courage to receive it. Indeed, "courage" from the Latin "cor" which means "heart." Joy is generously given to those who take risks with an open and generous heart to receive it. This is a joy that is certainly not just "giddily joy" but rather, a kind of "rejoicing" in whatever circumstances that comes my way knowing that the grace and spirit of peace is always present present in me.
 In who and what you are now, what are your other dreams or do you still have anything you want to achieve?
I dream to promote, especially to younger generations, the "culture of discernment". I want to in their hearts the importance of discernment. We are in an era where truth is being distorted. We need discernment to distinguish what is authentic and what is not. A person who is open to discernment creates a key to the will of God to be fulfilled in his/her life.
What is your message to young people who are now feeling lost, who are still finding their purpose, who doesn't know what to do with their lives?
Dear young people,
I hope you will consider attending a search-in or a discernment program. Through this, you will get to know yourself and God in a deeper manner.
What is your message to young people who wanted to serve but do not know how?
Do not be afraid to seek, to ask, to hunger, to thirst, to yearn, to crave because the Lord will surely meet you where you are.
If you have a favorite Bible verse,  what is it and why.
"All works for the good of those who love God."
(Romans 8:28)
I marvel when I witness many times that God's power is manifested even in undesirable circumstances. As long as you love God, as long you do His will, all shall be well!